Helfer on Capitol Hill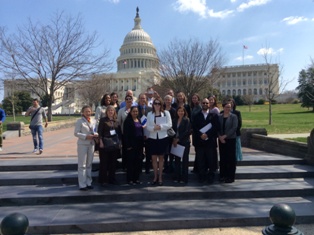 Members of the Society attended a legislative planning session and visited Capitol Hill during the organization's recent Annual Conference in Annapolis, Maryland.
2014 Presentations Now Available
Presentations from the 2014 conference in Annapolis are now available to members in the Presentation Archives under the Member Center tab. You can also access presentations from previous years. Login is required to access this feature.
Awards Presented by Society
The Society presented the Helfer Award to Dr. Carol Berkowitz and the Outstanding Teach Award to Dr. Sara Sinal at its recent Annual Meeting in Annapolis. Also, Best Presentation awards were presented to Dr. John Stirling, Dr. Gil Binenbaum, and Dr. Sandeep Narang. Select Society Awards to access information about this year's award winners.
Society members can login with your username and password. You will then be taken to the Member Center landing page. The Center includes:
The Helfer Update is a quarterly newsletter with about Society members (promotions, new initiatives, awards - both local and industry, etc.). Submit your news here. Member login is required.

---
Learn More About Ray E. Helfer
---
Find Out What Membership Has to Offer
---
Discover Our Committee Network
---
Review Our Fellowship Listings
---
Check Out the Employment Section
---
---